Our story begins in the hours of a fog -filled Sunday morning. A beautiful valley with old houses, a deep silence, punctuated somehow by the peasantry daily life routine and the gibberish chants of birds.
We are in Sânsimion . A retreat from the path of busy roads, where "Milvus Group" Bird and Nature Protection Association set up a Rehabilitation Centre for birds. Here, almost 60 people have met to spend a day in nature. The court was a welcoming meeting place and the first activity of the day was an enchanting visit to the museum village, a reconstruction of the traditional atmosphere of the peasant houses from the Niraj Valley.
The Rehabilitation Centre hosts 6 birds, one Common Buzzard, one Lesser-Spotted Eagle, one Saker Falcon and three White Stork. They were the featured attraction for children, who listened quietly at the explanations!
Next step – grouping for the hike. And here we went! After a short stop at the village bell tower, we entered on the 5 km trail to Rigmani. The meadows in this time of year are full of vernal flowers, a delight for the hikers soul, and nonetheless, an occasion for photography enthusiasts to capture natural small memories. Havadtői Krisztina, a botanist, was our guide in the plant world, thoroughly looking for beautiful wild orchids (Neottia nidus-avis, Orchis purpurea, Neotinea tridentata) that bloom during this period!
Children gazed at multicolour Eastern green lizards basking in the sunshine, looked at relatively fresh tracks of wild boars or observed birds with binoculars.
The road continued into the fresh forest. With our GPS "friend" we found our path, while children enjoyed searching Fire-bellied toads in puddles.
After a brief pause for photographs, the group reached Rigmani, where a cauldron with gulyas was expecting the hungry hikers.
In the afternoon, we had a most enjoyable program for children: they caught birds, which subsequently Milvus members have ringed and released (totally 10 birds), checked the artificial nestboxes in the forest and listened to a presentation on small mammals.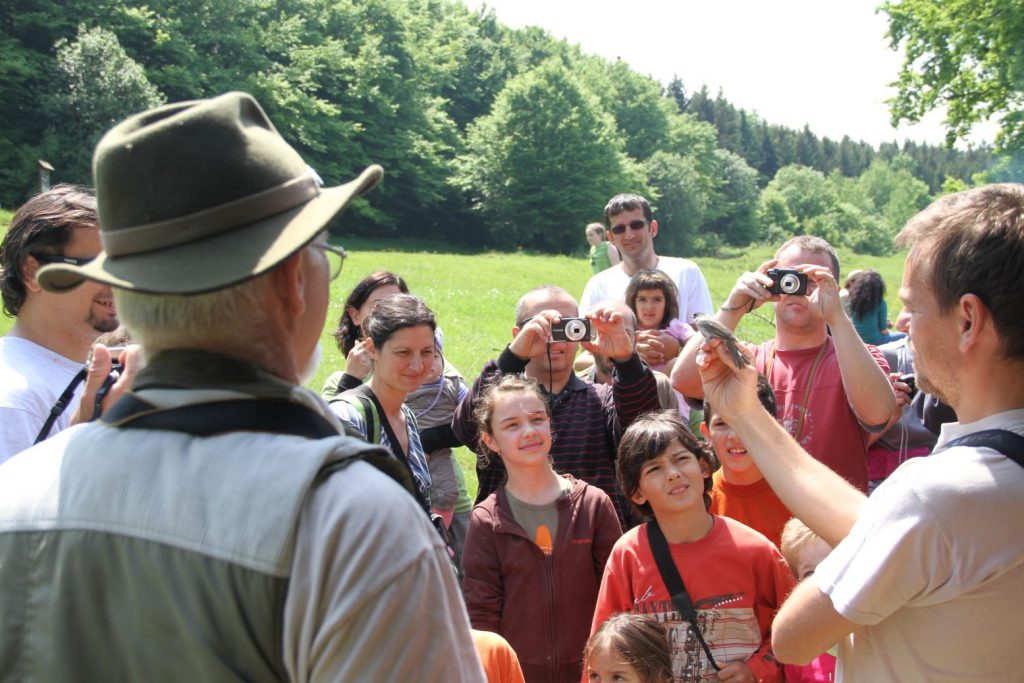 But nothing reflects better the pleasant atmosphere of the trip than the following photos.
The trip was organized by the Milvus Group as a Green Week activity. In Romania 12 events were also organized, all under Nature – our health, our wealth slogan.