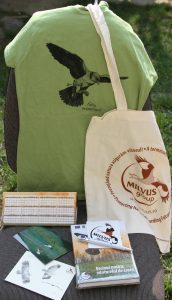 Dear Stork Friends,
we invite you to a new season dedicated to the life of white storks (Ciconia ciconia) from Dumbrăvioara! Be careful, monitor the nest and let us know when the first stork will arrive.
The first one of you who it will indicate the date the bird arrived will receive a prize package from Milvus Group!
Send us a print screen picture to our Facebook page or to the following address: iulia.vizi@milvus.ro. The prize consists in a T-shirt, a notebook, a ballpoint and other Milvus publications!
Last year, the webcam was a success, it was accessed for 334 342 times by 64 865 users (computers). Maximum of visitors was recorded in a single day during the nesting period, 9469 views.
2015 was not an easy year for storks. Between 15 and April 23, five eggs were submitted, only four chicks hatched . In early June only two chickens were still alive, this was probably due to the extremely cold weather and rainy ice.
On June 29 we witnessed a successful adoptions: one offspring fallen from a nest of Brâncovenești was received in the nest monitored by the webcam, we hope he arrived safely in Africa.