No one would have thought in 1991, when 7 enthusiastic ornithologist friends got together in the kitchen of Mr. Szombath Zoli, that the herein founded Milvus Group will still exist after 20 years, even more, it will be one of the most important and recognized nature protection associations in Romania, with hundreds of members, with many employees and with many achievements – which we tried to sum up, but it is impossible to include it all in this short report.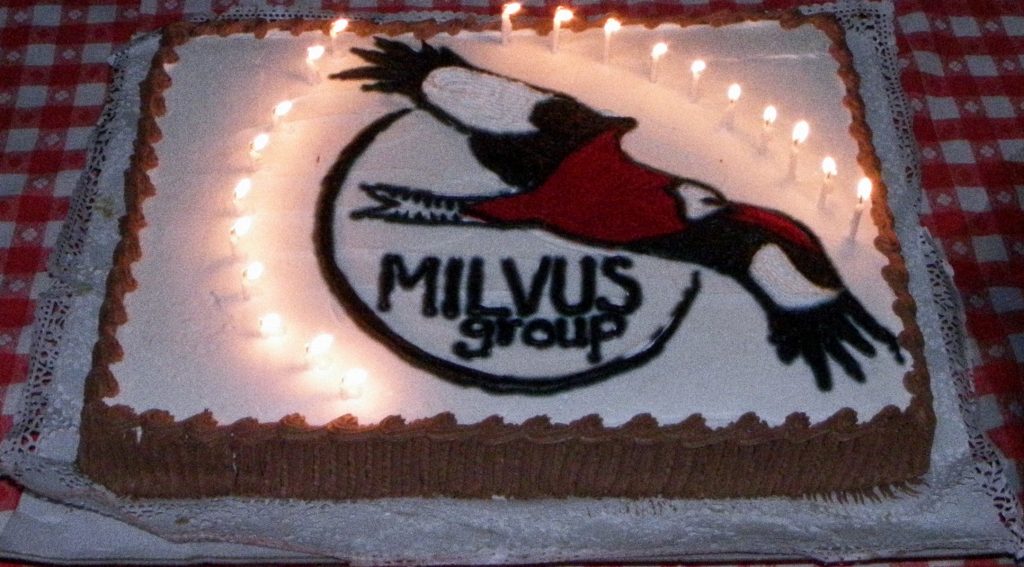 At the beginning Milvus Group started as a group of friends, and despite the current dimensions of the Group still managed to remain that, with its benefits and disadvantages. Some say this is the reason why we will never be professionals, a cold-blooded machine which hires the best and decides only on professional considerations. Fortunately many of us think that the results of the past 20 years prove the justification of this fellowship, hereby we are not just a professional group, but also a coherent one. Which are the achievements of the past 20 years that we are proud of? Perhaps we dispose of the most extended knowledge about breeding, migrating and winter birds of Romania, therefore: – we organized
ringing camps during 10 years in Gurghiu mountains
, during 2 years on the Chituc island, where we caught 4 new species for the country – we organized
raptor migration watch site camps in Măcin mountains during 6 years
, and
we also endeavoured to explore the exact migrating routes of raptors in Dobrogea
 and
we organized raptor migration watch site in Bosphorus
– we organize the
Wintering Birds of Prey Monitoring Programme
– we organize (together with the Romanian Ornithological Society) the
Common Bird Monitoring
 and the
Mid-winter Waterfowl Count
, we run the
nationwide White Stork count
(also together with the Romanian Ornithological Society) – we evaluated the population size of several raptor species:
Lesser Spotted Eagle
,
Golden Eagle and Peregrine Falcon
,
Red-footed Falcon
10 years after Milvus Group was founded, we decided not to concentrate our work only on birds. It was a wise decision, here are some of the results: – we have nationwide data about the population range of otter and
European souslik
, as well as about the range of some amphibian and reptile species – we run large carnivore surveys and focus on conservation, targeting especially the
brown bear
We can be rightly proud of these results, but they alone would not take nature conservation forward. Fortunately we had the opportunity to use our data in the benefit of nature conservation – we have a huge part in the proposals of
the Natura 2000 network
; we can say that without our persistent work, Romania would have remained without hundreds of thousands (or perhaps millions) of hectares of protected areas, and our work is not yet finished – we initiated the mounting of special platforms on pylons for White Stork nests in the biggest part of the country and we installed the first web-camera in Romania on a
White Stork nest in Dumbrăvioara
–
we run a successful Environmental Education programme, with many classes and camps
– we try to be watchdogs and to act if any nature harming occurs, ex: building roads trough protected areas (
https://milvus.ro/RO/ngo-revolution
) or building wind farms where they could negatively affect bird populations – we would like to achieve the long-term conservation of three raptor species with projects financed by the EU
Lesser-Spotted Eagle
 ,
Saker Falcon,
Red-footed Falcon .
– we have had a
rehabilitation centre
for birds for more than 10 years, which works on our own costs and with the help of volunteer veterinarians – we founded the
Milvus Scholarship
, a tool for supporting young nature conservationists – we take part in the
management of 4 protected areas
– we organized a
nature photography contest
– this year for the third time, and we could go on, and we promise: we will. All these could be achieved only with teamwork, hereby we would like to thank the help of every member, volunteer, employee, sympathizer and supporter. We thank our criticizers too, trough them we only get stronger. By looking back and analysing, we realize that all these things, which we call results, are nice and true, but they haven`t changed the world (enough) thereto we could say, Milvus Group can split up, because there aren`t any goals to stay together for. So we continue and we hope that there are many 20 years to come for the Group, and one day we could say: we have no more things to do for nature conservation. The 20
th
anniversary was celebrated in November by the whole Milvus Group