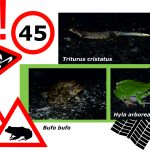 Amphibians begin a spectacular activity every year: hundreds, thousands, tens of thousands of frogs and newts begin their migration from wintering habitats to their aquatic breeding spots. This phenomenon happens in a few days or weeks depending on the species and weather conditions during this period. Migration is spectacular especially where amphibians are hibernating in the soil, meadows, hills, forest edges or in the woods at a greater distance than the wet habitats. This migration is a potentially dangerous for the amphibians as human infrastructure development has not kept – and still does not takes into account – the presence and the ecological requirements of these species. In many cases wintering areas are isolated from roads, houses, fences even spawning, so amphibians are forced to cross roads with high traffic. Every year, this crossing, kills millions of amphibians at the country level. In Romania, the amphibians issue is rarely discussed and almost never solved. But there are solutions to avoid and reduce the negative impact of the movement, already applied in many EU countries. The first step would be placing warning signs for vulnerable areas. However, these indicators will only work if drivers are civilized, with regard for wildlife, which will slow down to the indicator.
Combining this indicator with the speed limitation may be an issue that will increase efficiency of the sign, similar to the location of speed limitation devices. Speed, moreover, affects the lives of amphibians who escaped injury by harmful air pressure exerted on their bodies. Civil society and the authorities themselves, often work together by building fences within vulnerable sections, collecting exemplars in migration and releasing them in targeted habitats. Construction of under-crossing passages for amphibians (pipes, tunnels, bridges, viaducts) is among the most costly and most effective solutions. These passages should be as broad as necessarily and should be constructed combined with structures as pines or dams which guide the amphibians to stop crossing the road. Realization of new habitats for breeding or hibernation are otherwise quiescent solutions to stop amphibians crossing roads. The highest level of protection is road closure until at least the end of the period of migration or decommissioning the total segment – difficult to achieve in most countries. There are various solutions, but we need good will and sense for their planning and implementation. Authorities are responsible and are able to guide infrastructure development, to take account of this group of animals, to ensure that existing infrastructure conform to the existing national and European legislation requirements. Milvus Group
produced a document
where filling some basic information, we can draw attention to the vulnerable section and ask for remedies. This document can be sent to the state institutions, electronically, or you can send it to us. It is important that this document should reach the authority that manages the road section (usually the Ministry of Motorways and National Roads in Romania or local councils) and the Environmental Protection Agency of the county where you spotted the amphibian migration. Until the much desired change occurs in this aspect of nature protection, drive safely during rainy periods! If you see amphibians on the road, ride slowly, bypass them! If you have time, help them to cross but at the same time pay attention to your safety and the road users!
The amphibian migration can be uploaded here.
You need only a picture of an amphibian and the exact place!