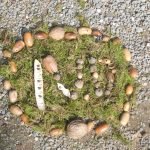 With the occasion of the "Integrated School Week" the Environmental Education Working Group of Milvus Group organized different activities for children and young people. On the 3rd of April 2012 they organized an activity named "Detectives of Nature" on the Cornești Plateau (Tîrgu-Mureș) for 7 groups from kindergarten and elementary school.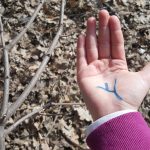 They had to follow a route during which they had some challenges: using a box-camera they had to take pictures of animal tracks, plants and objects which do not befit in nature. At the resting station they were invited to play games – imitating the movements of frogs, creating a trophic network, getting familiarized with the bill types of birds and building bird nests.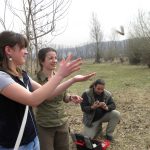 For young people from high-schools, members of Milvus Group organized an activity on the 5th of April 2012 at the Mureș bank (Tîrgu-Mureș). Here they presented some activities and research methods of Milvus Group for 8 groups from schools. They presented the bird nets used by ornithologists and pupils could take part in bird ringing, the methods of small mammals research (trapping, owl pellet analysis), and small mammal species that inhabit the place. Because of the drought there weren't any puddles, but the organizers introduced the amphibian species which occur there, through pictures. Besides, young people could try out the chemical analysis of Mureș river's water. On this activity the games weren't absent neither, they imitated the movements of frogs and created a trophic network. During this week members of Environmental Education Working Group visited different schools where they held activities about nature conservation as well. These schools were: General School from Deaj, Art High School from Tîrgu-Mureș and Inclusive School Nr. 1 from Tîrgu-Mureș. Every participant went home pleased because this time they learned about their environment in nature, not from the benches of their school. Approximately 450 children took part in of Milvus Group "Integrated School Week" activities.