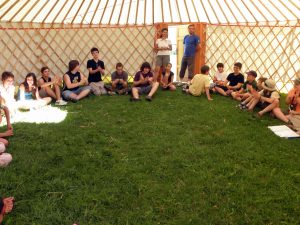 Between the 22nd and the 27th of July 2013, Milvus Group held, for the seventh year running, the Milvus Forest School in Rigmani, Mureș County. As with the previous years, we tried to organize an interesting and varied program for the 31 participants that would both teach them about the natural world and provide a week of fun in the outdoors.
We returned to the site of Rigmani, chosen as it is located in Dealurile Târnavelor și Valea Nirajului, an area of abundant wildlife and community interest that is part of the Natura 2000 network, making it an ideal place to present the natural treasures of Transylvania. As in previous years, the participants were accommodated in traditional yurts in a clearing by the forest.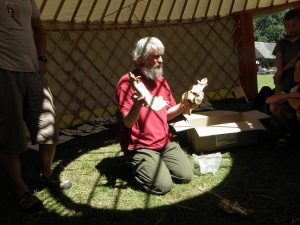 Over the week, the camp hosted a variety of guests. First, entomologist Bálint Markó from Babeș-Bolyai University presented the invertebrates from the region of the camp and discussed research methods used in the study of insects. Later in the week the children learnt about the different plant species of the region with Krisztina Havadtői. Staff from Milvus Group were also involved, teaching the children about large mammals, their natural habits and habitats.
Activities in the camp included bird ringing and small mammal trapping, common aspects of conservation used the world over. There was also owl pellet analysing, and the children had the opportunity to put together rodent skeletons using the bones from the pellets. Later in the week, the children took a trip to the Niraj river to search for wild animal tracks. They found otter spraints and thick shelled river mussels and, afterwards, they had the opportunity to refresh themselves in the water.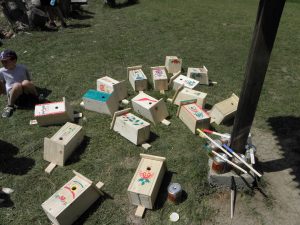 Introduced for the first time this year was the opportunity for the participants to make artificial bird nests, which they painted in traditional patterns with the help of teacher Mária Melánia Orbán. The nests were then mounted in the nearby forest.
The knowledge of the participants was measured with two tests, one at the beginning and another one at the end of the camp. The difference between the two results indicates that besides the entertainment, participants learned a lot about nature. The organizers hope that this will help to deepen nature conservation knowledge of the participants.