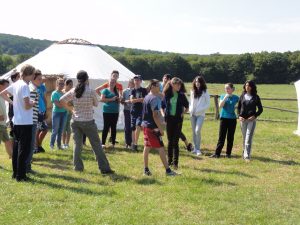 Following the success of
last year's camp near Jibert
, Milvus Group held another camp this summer, between the 9
th
and 14
th
of July, for children interested in nature and conservation. This time the participants were selected from the
"I also take part in Natura 2000" contest
. From the 500 registered participants, 21 pupils from 4 schools finally were chosen and given the opportunity to expand their theoretical knowledge in the practical environment of the camp. Over the week we looked to enrich the children's knowledge about nature and nature conservation and present the values and the importance of Natura 2000 sites.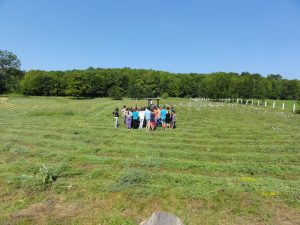 The participants were accommodated in yurts and during 6 days they had an interesting and complex programme. First day`s guest was Mihai Proca, the communicator of "Conservation of the Lesser Spotted Eagle in Romania" LIFE project, from the
Environmental Protection
Agency,
Sibiu
. In the following days, with the help of specialists from Milvus Group, the participants got familiarized with large carnivores theoretically and on the field also. They analysed owl pellets and they met the amphibians and reptiles from their environment. Entomologist Ionuț Tăușan from "Lucian Blaga" University of Sibiu, together with Alexandru Ioan Tatu and Alexandra M. Stoian from "Babeș-Bolyai" University of Cluj-Napoca presented interesting invertebrates which occurred around the camp and the methods that specialists use to research these species. During the camp pupils got familiarized with the ornithological net and the importance of bird ringing and of small mammal research using traps.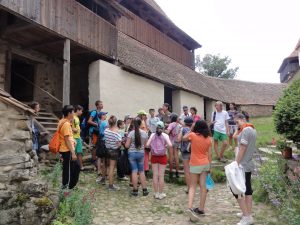 There were two excursions organized: one to the ancient Saxon village of Viscri where the pupils were given a tour of the brickworks and the fortified church, and another to the sheep-cote where the children could taste fresh cheese. They also had the opportunity to ride horses and to play a range of games. As with last year, the knowledge of the participants was measured with two tests, one at the beginning and another one at the end of the camp. The difference between the two results showed a clear expansion of their knowledge over the course of the camp, while also indicating that pupils can learn much more efficiently about the natural world when out in the field than they can from the benches of their classrooms. The camp was organized in the frame of the
"For nature and local communities – the bases for a Natura 2000 integrated management in Hârtibaciu – Târnava Mare area"
project, co-financed by the European Union Regional Fund (SOP) and implemented by WWF Romania in partnership with ADEPT Foundation, Mihai Eminescu Trust,
Environmental Protection
Agency
Sibiu
and EcoTur Sibiu (
http://natura2000transilvania.ro/
).