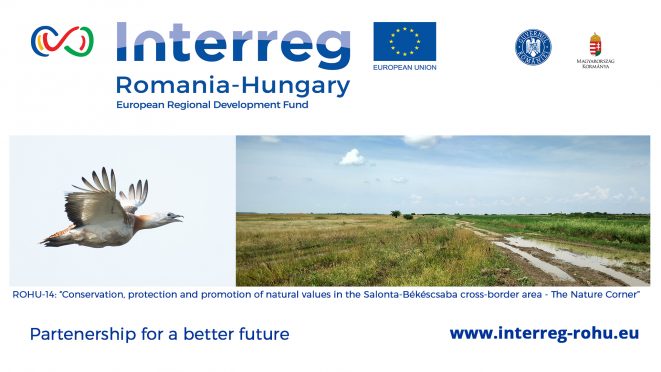 Title : Conservation, protection and promotion of natural values in the Salonta-Békéscsaba cross-border area (ROHU-14) – The Nature Corner
Funded by : the European Union, through the European Regional Development Fund, within the Interreg V-A Romania-Hungary Programme, and with the support of the Governments of Romania and Hungary, aimed at cross-border cooperation for the protection and efficient use of common values, heritage and resources.
Length : 54 months (date of launch: 1 March 2018)
Budget : 2 997 387.86 euros
Partners : the project is based on a cross-border public-private partnership aimed at conserving and promoting the common natural heritage.
Salonta Municipality (project leader)
Körös Rivers Valley Natural Park Association
Milvus Transylvania West Association
Békés City
Objective : the sustainable use of the common natural heritage in the Salonta–Békés cross-border area, by improving its conservation status, and promoting these natural values extensively.
Main activities :
Nature conservation: barriers found in the habitat of the Great Bustard will be removed (about 6 km long medium-voltage power lines will be buried), the number of its predators will be reduced (during the nesting season), ecological restoration of the Natura 2000 area – eutrophic lake.
Education and information: seminars for primary and secondary school teachers focused on the Great Bustard and other species, school contest for pupils, meetings with farmers and livestock owners, sharing experience with other experts.
Tourism: a tourist information centre and a Great Bustard observation tower will be built, educational trail will be developed.
News : the website of the project: www.dropia.eu
Follow us on:
Facebook: The Nature Corner
Instagram: nature_corner_rohu14
The content of this text does not necessarily reflect the official position of the European Union. Photo credit: Milvus Group