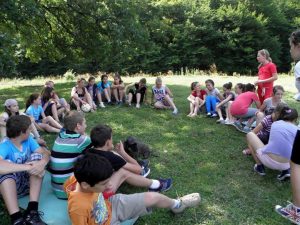 This summer bought with it another Milvus Forest School in Rigmani. Over 4 weeks, more than 100 pupils from Brașov, Harghita, Mureș and Sibiu counties attended the camp and were accommodated in yurts. The traditional childrens camp was organised for the 8
th
time, drawing back many participants for whom the camp has become a yearly tradition. Besides the traditional camp, two other camps were organised this year, by the Administration of Dealurile Târnavelor-Valea Nirajului Natura 2000 (Milvus Group also takes part of the administration), and funded by the European Union Regional Fund project. In both of these camps pupils from the Dealurile Târnavelor-Valea Nirajului Natura 2000 had the opportunity to take part for the first time in Milvus Forest School.
On the fourth week the camp was organised for pupils from Podișul Hârtibaciului, financed by the (SOP) and implemented by WWF Romania.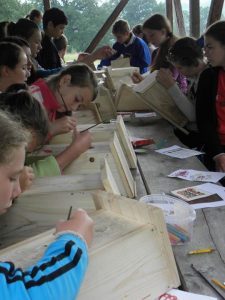 The programme of the camps was very diverse, incorporating activities to teach the children about the flora and fauna of the area, nurture the eco-awareness of the participants and increase their respect for nature. Then here was the entertainment, with the participants given the opportunity to play archery, rounders, ecological games and a traditional game with shepherds whips. With the help of Milvus Group colleagues, participants of the camps became familiarized with bird ringing, owl pellet analysing, small mammal trapping, wild animal tracks, as well as learning first-hand about the common amphibians, reptiles and fish species from Niraj valley.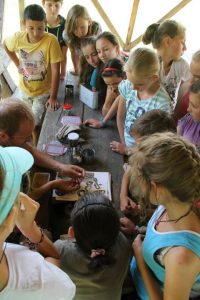 We had guests who presented interesting activities: István Urák (from Sapientia University) presented the life of insects, Andrea Zsigmond (Sapientia University) made chemical analyses of the water together with the particpants and Tibor Hartel (Universitatea Sapientia) presented the meadows and taught about the trees and their development. From Babeș-Bolyai University Bálint Markó visited us and presented the social life of ants. Together with Melánia Orbán, a professor from Sovata, participants painted and wood carving.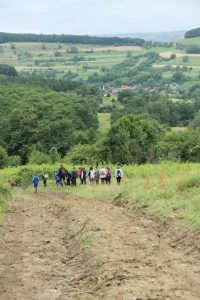 As a new activity this year, we invited the guides from
Salvamont Mureș
who tied ropes on trees for climbing, tyrolean traverse and slackline. The participants were also given improvisational challenges, such as "how to move from one yurt to another during night in the flood" or "skating in the mud". Over the course of the camp the participants gained much practical knowledge, learning how to understand and interact with nature in new ways.
Click for more photos from the traditional camp.
Click here
and here for more photos from the camp organised for the pupils from the Dealurile Târnavelor-Valea Nirajului Natura 2000 sites.