You know that feeling when you finally find the perfect home after a long search? There is shade, and there is sun, a food market nearby, playground for the children, and an immense hope that here you may raise them safe. *** We do not know what made one of our lead characters to venture up north and to try their luck there. Nonetheless, we can state with certainty that our character, a
European Roller
, took over the lodging that was
installed
especially for her in high hopes. Why such high hopes? Because we haven't got any observational data on the European Roller in the Ier Valley for the last 30 years.

Thus, you can imagine the joy of our colleagues who registered in June five different rollers that (re)appeared or nest in the area after several years or even decades of absence. We are still in the process of monitoring the nests, but, just to give you an idea, we made a map with these new breeding grounds. And here's an interesting fact: two of these rollers were ringed as chicks last year. Then, they were 15 km away from their actual nests, south-west.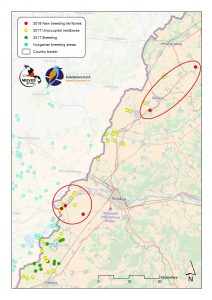 We are in the Carpathian Basin, in the north-west of Romania, where arable land alternates with pastures and meadows. In the rural areas, people mainly grow crops and raise livestock and, during the last centuries, they changed the landscape to suit their own needs. One of these consequences is the disappearance of trees. The cutting of trees meant to the rollers not only the loss of the lodgings where they raised their chicks, but also the vantage point from where they could chase food (insects, frogs, lizards and small rodents).

This is why setting up
artificial nests
was essential. With the "
Conservation of the European Roller in the Carpathian Basin (LIFE13/NAT/HU/000081)
" project we aimed for the roller's long term conservation. And we hope that the plantations of
Grey Poplars
that we made in spring will attract with the time woodpeckers, too, as rollers rely on them to find their natural nests (in tree cavities). And here's another good news: the roller that we mentioned earlier is nesting near one of these poplar plantations! *** This year means to us not only a new season and a new generation of European Rollers (the chicks have already hatched), but also more hope that this species can actually thrive in the Western Plain of Romania if we can save the wooded patches and the trees.