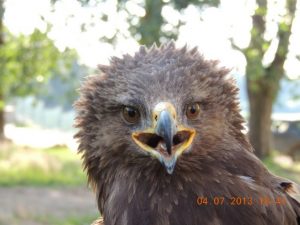 Arlie, the adult Lesser Spotted Eagle whose movements the Conservation of the Lesser Spotted Eagle LIFE project team have been tracking by satellite transmitter since last year, has started his spring migration northwards. The satellite information, charted using the Argos System, shows that between 8 and 11 am on the 14th February, he started flying North East from Namibia. By the 17th, he had travelled 650km, bringing him near the border of Zambia.
He still has 7000km to go before he reaches his nesting areanear Berivoi, Piemontul Făgăraș. Judging from the migratory patterns of the tagged birds from past years, we expect that Arlie will arrive sometime towards the end of March and the beginning of April, around 40 days from now.
Arlie is the most recent addition to the 22 Lesser Spotted Eagles that we have equipped with satellite transmitters since 2010, as part of the Life project 'Conservation of Aquila pomarina in Romania'. Here http://www.pomarina.ro/pomarina/index.php you can follow the movements of the tagged eagles.