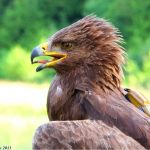 In 2017, Arlie began its long journey to the nesting grounds in the Făgăraș Mountains, Brașov County, three days later than in last year (9 February). According to data from the device mounted on the back of the bird, Arlie already travelled 500 km in just three days. If it will be a flight without incidents, the spring migration of Arlie will end in Romania in early April. You can monitor the route at
http://pomarina.ro/pomarina/index.php
.
Initially, 22 transmitters were mounted on Lesser Spotted Eagles within the project "
LIFE08 NAT / RO / 000501 – Conservation of the Lesser Spotted Eagle in Romania
" meant to implement various measures aimed at conserving the species. The project was implemented in partnership by the Environmental Protection Agency Sibiu, "Milvus Group" Association and the Romanian Ornithological Society.