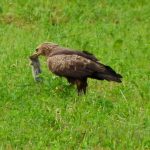 From all the LIFE projects finished in 2014, only 17 were selected as the
Best LIFE-Nature projects
, and two of them are from Romania.
Congratulations to the Ursuslife project, selected among the 5 best projects!
The "Conservation of the Aquila pomarina in Romania" was implemented between 2010 – 2014 by the Environmental Protection Agency – Sibiu, "Milvus Group" Bird and Nature Protection Association and the Romanian Ornithological Society. The
project
aimed to ensure the long term conservation of the Lesser Spotted Eagle in Romania. The Romanian population is very important at the EU level, as it represents a significant percentage (22 %) of the Lesser Spotted Eagle population in the European Union.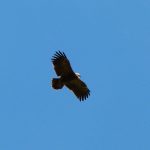 Since 2010, 22 Lesser Spotted Eagles were mounted with satellite transmitters. One and a half year after the project was finished; visitors of the project website still can follow the movements of two eagles:
http://www.pomarina.ro/pomarina/index.php
. The eagle named Erika returned very late this spring, arriving after mid-may in Romania – we are all curious if she will start breeding this year. The project is continued by the Lesser Spotted Eagle Conservation Network in Romania made up by volunteers who participated in theoretical training and practice sessions organized during the project. Best LIFE projects are subject to scrutiny. European citizens can
VOTE HERE
for the best projects until the 1st of July 2015!