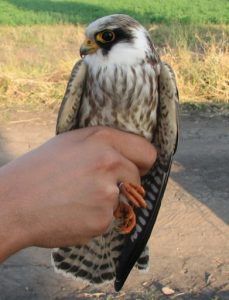 In the last month, the rehabilitation of birds from our center has seen a remarkable success. After the birds were kept under continuous observation for a sufficient period of time for total recovery,
six birds has been released
. The Common Kestrel (
Falco tinnunculus
) was confiscated wit the help of Lucian Pârvulescu from an illegal owner, approximately one year ago. This adult male with very worn feathers, being unable to fly was transported to Tg. Mureș from Timisoara. After a full molting, he was released successfully. The juvenile of Red-footed Falcon (
Falco vespertinus
) came to us through Mr. Gyerő Győző, who found the bird near the road, in vicinity of the town Chișineu Criș (Arad County). After the physical condition of the bird (named by the "adoptive parents" Diamond) has become appropriate to be released, it took flight to Africa with other falcons from the colony situated near Turda. The two Common Buzzards (
Buteo buteo
) have reached us, one of from Arad and the other from Tg. Mures, with seriously injured wings, being unable to fly. After a period of approx. two months, they have followed appropriate treatment, were released near Tg. Mures. Both birds flew very well, with active flight on long distances, and then began to soaring and climbing at altitudes ever higher. The young female Tawny Owl (
Strix aluco
), with name Ágoston, came to our center via Szabó József jr., suffered a shock, probably due to a collision with a car in Bogatii Forest (Brașov County). After only three weeks, her condition became able to be released. The young Marsh Harrier (
Circus aeruginosus
) was found in this autumn, in a weak condition near Tg. Mures. With no serious problems, he recovered in short period of time and was released on the Cipău Fishpond (Mures County). This bird was observed two weeks after releasing 3-4 km away from the releasing place, hunting at Iernut Fishpond; which confirms the success of rehabilitation. Before release, all the birds were ringed, and about most of them we realized a short video registration.