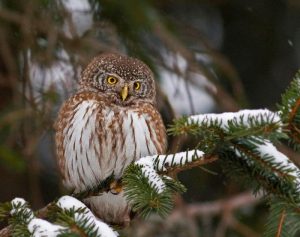 In winter 2010-2011 members of the Milvus Group have mounted a number of five artificial nestboxes for Eurasian Pygmy Owl (Glaucidium passerinum) and seventeen nests for Tengmalm's Owl (Aegolius funereus). These nestboxes were placed in areas where the presence of these two species has been previously confirmed. While for the
Pygmy Owl all the artificial nests were mounted in Călimani Mountains, for the Tengmalm's were distributed along the two main valleys in Giurgiu Mountains and Călimani Mountains.
In the future we will place other artificial nests for these two mountain distributed owl species, but also for others, as Ural Owl.