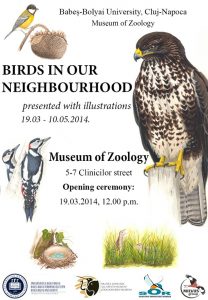 The Zoological Museum of Babeș-Bolyai University in collaboration with the Romanian Ornithological Society and "Milvus Group" Bird and Nature Protection Association organizes temporary exhibition "Birds in our neighbourhood" between 19.03 and 10.05.2014.
The exhibition presents bird species in agricultural habitats, villages and forests, using drawings in pencil – created for the bird identification manual of the Romanian Ornithological Society and Milvus Group, "Common Birds of Romania" – by artists Zsoldos Márton and Deák Attila.
Artistic drawings are completed with information about the anatomy and morphology of birds, with introductory notions on ornithology as well as the description of common bird species in Romania. Stuffed birds, different nests and eggs (of birds) accompany the art exhibition.
Opening: 19.03.2014, 12:00 p.m.
The book "Common Birds in Romania" will be presented within the opening.