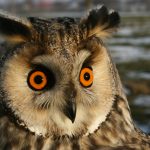 As in previous years, "Milvus Group" Bird and Nature Protection Association organises the Long-eared Owl (
Asio otus
) census also this year. This program is running in other East and Central European countries with the same method: counting the owls in their winter roosts. This synchronous census is important to clarify some questions related to the species. With this method many unknown wintering places have been discovered in Romania.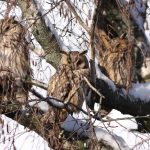 The involvement of volunteers is very important and we hope that more bird and nature enthusiasts will take part in this census. At the moment we have data from 13 counties from volunteer observers, hereby we would like to thank their help! Since the owls arrive to their winter roost sites already in November, we decided to introduce also this month in the data sheet, which can be
downloaded here
. After filling out the data sheets please send them to the program coordinator's address:
sanduandreeasteriana@yahoo.com
. For further information about this census please write to the same address.