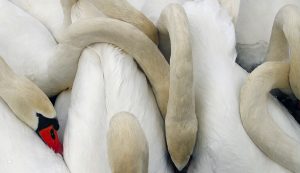 This year "Milvus Group" Bird and Nature Protection Association, together with the
Romanian Ornithological Society
(SOR) organized again the annual census of wintering waterfowl (Midwinter Waterbird Census) in Romania. The main period of observations was between the 10
th
and 20
th
of January, but because of a broader survey organized this winter, the last observation day was the 1
st
of February. The International Waterbird Census is coordinated by
Wetlands International
and it is organized every year in most countries of the world. For an easier coordination and organization of the survey, this year we split the country in two parts, thus the data from one part was totalized by Milvus Group and from the other part by the
Romanian Ornithological Society
. Besides Milvus Group staff, volunteers also sent their data sheets to us, thus 57 people contributed to the data which were totalized by Milvus Group. The observers gathered data in 146 localities from 25 counties. Most visited locations were in Bihor county (31), followed by Arad county (19) and Mureș county (17), but the size of the areas were not equal. In these counties numerous wetlands with small surface were visited, mostly lakes and smaller river courses. There were counties (like Caraș-Severin), where totally one or two locations were visited but observations were made on 130 km along the Danube River.
Totally

156,292

birds belonging to

129 species

were observed.
Of these, 117,547 belong to water bird species, which is 75.2% of the total. This, however, is only the number of strict water birds, but other bird species, the life cycle of which is attached to water (White-tailed Eagle, Common Kingfisher, White-throated Dipper, Grey Wagtail, totally 148 individuals) could also be added to these. The highest number of observed birds (24,620 individuals) was on along the Danube between Baziaș and Orșova, the lowest number (5 individuals) was recorded in Sălaj county, at the Mutoș fishponds. There were also places where the lakes were totally frozen and the observers saw only some songbirds, raptors or not even one bird. The number of most birds seen in a county was 20,992 in Bihor county, most of which were geese. On the opposite side are Harghita and Sibiu counties with 91 and 0 observed birds.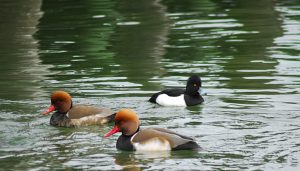 The observers noted the data (observer's name, contact, name of location, date of observation, optical equipment, disturbing factors and their intensity, size of the area, percentage of ice cover on the water surface, etc.) on a data sheet and totalized the number of individuals of the observed bird species. After the field they draw the visited sections or the shape contour of the visited area on a map.
The most frequently seen waterbird species were the following:
Mallard (
Anas platyrhynchos
) – 60,172, Great White-fronted Goose (
Anser albifrons
) – 10,336, Eurasian Coot (
Fulica atra
) – 5,806, Greylag Goose (
Anser anser
) – 5,637, and Tufted Duck (
Aythya fuligula
) – 4,527 individuals. The two large gull species (the Caspian Gull and Yellow-legged Gull) which were not distinguished by many observers and thus were noted simply as
Larus cachinnans/michaellis, were observed in great number too, with totally 5,117 individuals of the two species seen.
Besides waterbirds the other five most common species were the following songbirds
: Rook
(
Corvus frugilegus
) – 19,103, Western Jackdaw (
Corvus monedula
) – 6,782, Tree Sparrow (
Passer montanus
) – 1,807, Goldfinch (
Carduelis carduelis
) – 1,667 and Common Magpie (
Pica pica
) – 1,354. The cold and harsh winter (with thick snow cover) from the beginning of the year had a sensible effect on the number of birds. On each location where we made observations we saw much fewer birds than in previous years. In the inner parts of the country almost every lake was ice-covered and only some parts of the rivers remained partly melt. Despite the small number of observed birds, some observers saw rare species with sparse occurrence in the country, or interesting species for their areas. These are: Slavonain Grebe (
Podiceps auritus
) – 1 individual, Bewick's Swan (
Cygnus columbianus bewickii
) – 32 individuals, Bean Goose (
Anser fabalis
) – 278 individuals, Long-tailed Duck (
Clangula hyemalis
) – 3 individuals, Velvet Scoter (
Melanitta fusca
) – 29 individuals, Saker Falcon (
Falco cherrug
) – 1 individual, Pallas's Gull (
Larus ichthyaetus
) – 1 individual, Bohemian Waxwing (
Bombycilla garrulus
) – 117 individuals, Common Redpoll (
Carduelis flammea
) – 1 individual, and Twite (
Carduelis flavirostris
) – 19 individuals. As an interesting fact we mention the
Bar-headed Goose (Anser indicus)
, a not native species in Europe and Romania, 3 individuals of which were seen in a flock between other geese during the census near Salonta (Bihor county). In this way we want to thank all participants for their efforts to take part on this event and for their provided data.
Results of the wintering waterbird census for year 2013