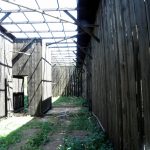 On August 4th, Milvus group completed the construction of a flight cage, the latest addition to the Bird Rehabilitation Centre we have been working on with the Vets4Wild Association in Sansimon, Mures County since Autumn 2012. At 4m high and 25 m long, it is the result of several months voluntary work, made possible by sponsorship from the "Conservation of Falco cherrug in NE Bulgaria, Hungary, Romania and Slovakia" LIFE project.
The cage is designed for rehabilitation purposes, providing enough space for recovering birds to practice flying and gather energy, so that on release back into their natural habiat they have a higher chance of survival. The idea for the cage came after a visit to the Rehabilitation and Breeding Centre of Green Balkans from Bulgaria, where such cages have been essential in the recovery of rare birds.
Now the cage is ready, the Saker Falcon which arrived to us last autumn from Arad has a new place to stay until it recovers enough to fly above the pastures with European Ground Squirrel.