Deadline for sending pictures to contest is extended to 21st of June!
As spring rolls around, it is time once again forthe Milvus International Photography Contest. This year it will be the 6
th
edition of the competition and Milvus Group welcomes photographers with the new and challenging category ofthe photo essay: a series of nature photos, in black and white or colour, built around a theme. You can find more details in the
invitation
. Photo submission deadline: 14 June 2014.
Invitation

                                                                   

Entry form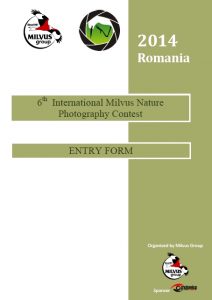 Official distributor in Romania for: Manfrotto, Kata, Sigma, Gitzo, Hensel, Photoflex, Proline, Schneider B+W, Colorama, Visible Dust, Orbitvu and Cosmolight. More information at www.photosetup.ro.
   Media partners: www.photocontestinformation.com