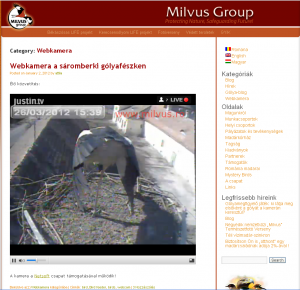 On 26 March 2012 at 15.39 PM Nagy Györgyné was the first who observed the stork on the nest from Dumbrăvioara! Congratulations! The web camera has been mounted on stork nest number 10 from Dumbrăvioara and the events can be followed live, day and night. Last year there was an interesting turn of events in the nest, and since many people watched it with great enthusiasm, this year we will reward those observing important events from the nest first.
This year's first stork should arrive at this nest any day now. The person who first observes the stork on the nest will be rewarded!
The players have to follow the online webcam exclusively on the homepage of Milvus Group (
https://milvus.ro/category/live-webcam
, but e.g. from the webpage of Justin TV it is not valid). They have to save the image (with the help of Print Screen, Screen Capture, etc.) as an image file and send it in JPG format with their name and location to the
competition@milvus.ro
address. If you have any questions or suggestions, please write to the same address. * By pressing the Print Screen (Prt Scn) button, the picture from your screen is copied, then you can paste it (CTRL+V) into Paint or similar programs, from where you can save it in JPG format.