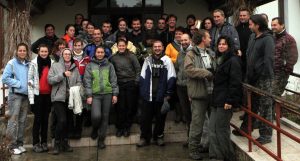 This year "Milvus Group" Bird and Nature Protection Association organized the II. Romanian Ornithological Marathon, which took place at Cefa Fishponds (Bihor County) between 21-23 October. 13 teams with 2-4 persons (totally 43 people) registered at the contest, but there were also participants who didn't register. The marathon started on the 22
nd
at 10:00 AM and finished on the 23
rd
at 10:00 AM. During these 24 hours the participant teams registered all the species seen or heard in their field notebooks. Unfortunately the contest was organized in late autumn, the cloudy weather and the awhile rain showed their effect on the species list. Despite all these the 13 teams registered (saw or heard) 130 bird species. Between this number and the number of species observed by the winner team there is a difference of 37 species, which means that the winner team has seen only 71,5% of the totally observed species. From the evaluation of the results it turned out that during the marathon 22 out of the 130 species were seen by all 13 teams, which is 16,9% of the total species list. At the same time there were 26 species (20% of the total list) seen by only one of the teams. Beside the 130 species observed during the event there were two species (Common Crane and Marsh Tit) which were only seen by the organizers (Daróczi J. Szilárd, Nagy Attila and Siklódi Attila). The competition between the first three teams was a very close one, the difference between the observed species being only one. The difference in the registered species number is more obvious between the third and fourth teams, and it is 11 species. From the 130 observed species two species are considered rarities for the country: Pectoral Sandpiper (
Calidris melanotos
) and European Herring Gull (
Larus argentatus
) (
http://rarebirds.hu/showrecord.php?id=2613
). At the end of the contest the organizers decided that the prize for the best species, a painting of a European Roller, would be given to
Ölvedi Szilárd
, who found the Pectoral Sandpiper. The European Herring Gull was found by the winner team. During the event several species were observed by the participants which are considered locally interesting or sparse species for the territory:
Whooper Swan
,
Black-throated Loon
,
Squacco Heron
,
Peregrine Falcon
,
Jack Snipe
,
Lesser Black-backed Gull
,
Black Woodpecker
,
Woodlark
,
Red-throated Pipit
and
Firecrest
. Hereinafter we present the results of the registered teams. The first number indicates the total number of registered species by the participant team, while the second number shows the number of species only heard, not seen.
"Birdy": Fülöp Attila, Máthé Orsolya, Ölvedi Szilárd, Vágási I. Csongor – 92/4
Trinitas: Incze Anna, Kiss Réka Beáta, Kovács István, Tamás Réka – 91/5
Early Risers: Aczél-Fridrich Zsuzsanna, Hegyeli Zsolt, Papp Judith, Papp Tamás – 80/3
The Family: Bozó László, Bozó Zoltán, and the other members of the family – 74/1
Los Rontos: Kastal Ágnes, Patkó Erika, Zeitz Róbert – 74/6
Siskin: Bărbos Lőrinc, Kiss István, Péter Ágota – 71/3
Passer: Hajas-Schmotzer Anett, Kósa Ferenc, Pap Péter László – 66/2
Kalotaszeg: Böndi Erzsébet, Böndi László, Csép Antal – 64/1
Luteus: Botoș Arthur, Vasiu Florin – 56/2
Desert Larks: Magyari István, Miklos Zsófia, Puskás Zsolt, Veres-Szászka Judit – 54/1
Clangula: Kiss Réka, Marton Attila, Sándor Krisztina, Tankó Gabriella – 54/2
Yellowhammer: Andrási Norbert, Nagy Ágota – 36/1
Although we evaluated the 12
th
best species list, their list was handed down after the end of the contest. The territory was large enough with diverse habitats, so one could do observations on the fishponds, in forests, bushy areas and scrogs, moorland and different grasslands. Hereinafter we present the list of species observed during the marathon. The number after the species name indicates the number of teams that observed the species (both heard and seen). We thank every participant for taking part on this event and for playing fair, searching for birds assiduously. We accord special thanks and we congratulate the Bozó family, who came from Hungary and became the 5
th
best team with only a few hours of observations. Congratulations to the winner teams (the first three) and to the finders of the two best species! We also want to thank for they help for our partners too, the Cefa Natural Park's Administration and the Cefa Fishpond's Administration Pro-Acva S.A.
Cygnus olor / 13
Cygnus cygnus / 10
Anser albifrons / 10
Anser anser / 12
Anas penelope / 9
Anas strepera / 10
Anas crecca / 13
Anas platyrhynchos / 13
Anas acuta / 1
Anas querquedula / 1
Anas clypeata / 13
Netta rufina / 1
Aythya ferina / 13
Aythya nyroca / 10
Aythya fuligula / 9
Bucephala clangula / 1
Phasianus colchicus / 10
Gavia arctica / 2
Tachybaptus ruficollis / 11
Podiceps cristatus / 13
Podiceps nigricollis / 9
Phalacrocorax carbo / 13
Phalacrocorax pygmeus / 13
Botaurus stellaris / 3
Ardeola ralloides / 5
Egretta garzetta / 1
Egretta alba / 13
Ardea cinerea / 13
Haliaeetus albicilla / 8
Circus aeruginosus / 13
Circus cyaneus / 6
Accipiter gentilis / 1
Accipiter nisus / 8
Buteo buteo / 13
Falco tinnunculus / 10
Falco peregrinus / 7
Rallus aquaticus / 12
Gallinula chloropus / 3
Fulica atra / 13
Pluvialis squatarola / 6
Vanellus vanellus / 13
Calidris minuta / 3
Calidris alpina / 8
Calidris melanotos / 1
Philomachus pugnax / 6
Lymnocryptes minimus / 1
Gallinago gallinago / 9
Limosa limosa / 7
Numenius arquata / 12
Numenius phaeopus / 3
Tringa erythropus / 3
Tringa totanus / 1
Tringa nebularia / 3
Tringa ochropus / 4
Tringa glareola / 1
Actitis hypoleucos / 1
Hydrocoloeus minutus / 1
Chroicocephalus ridibundus / 13
Larus canus / 9
Larus fuscus / 1
Larus argentatus / 6
Larus michahellis / 12
Larus cachinnans / 8
Sterna hirundo / 1
Chlidonias hybridus / 6
Columba livia f. domestica / 6
Columba palumbus / 4
Streptopelia decaocto / 13
Tyto alba / 2
Athene noctua / 5
Asio otus / 6
Alcedo atthis / 13
Picus canus / 3
Picus viridis / 8
Dryocopus martius / 3
Dendrocopos major / 11
Dendrocopus syriacus / 1
Dendrocopos medius / 5
Dendrocopos minor / 4
Lullula arborea / 2
Alauda arvensis / 1
Hirundo rustica / 6
Anthus trivialis / 1
Anthus pratensis / 4
Anthus cervinus / 2
Anthus spinoletta / 8
Motacilla flava / 1
Motacilla alba / 12
Troglodytes troglodytes / 13
Prunella modularis / 2
Erithacus rubecula / 12
Phoenicurus ochruros / 9
Saxicola torquata / 6
Turdus merula / 12
Turdus pilaris / 3
Turdus philomelos / 4
Turdus viscivorus / 1
Sylvia atricapilla / 2
Phylloscopus collybita / 12
Phylloscopus trochilus / 1
Regulus regulus / 3
Regulus ignicapilla / 1
Panurus biarmicus / 11
Aegithalos caudatus / 13
Cyanistes caeruleus / 13
Parus major / 13
Sitta europaea / 9
Certhia familiaris / 1
Remiz pendulinus / 9
Lanius excubitor / 1
Garrulus glandarius / 10
Pica pica / 12
Corvus monedula / 1
Corvus frugilegus / 6
Corvus cornix / 7
Corvus corax / 12
Sturnus vulgaris / 9
Passer domesticus / 12
Passer montanus / 13
Fringilla coelebs / 11
Fringilla montifringilla / 3
Carduelis chloris / 5
Carduelis carduelis / 12
Carduelis spinus / 8
Carduelis cannabina / 8
Pyrrhula pyrrhula / 1
Coccothraustes coccothraustes / 6
Emberiza citrinella / 6
Emberiza schoeniclus / 12
Miliaria calandra / 1