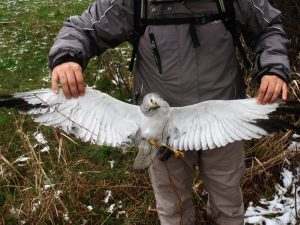 Poisoned birds have again been found by Milvus Group employees near Salonta, Bihor County. Our environment gets poorer with every killed bird, especially with endangered, rare species such as these. Previously an Eastern Imperial Eagle was found poisoned, and recently a Pallid Harrier, a very rare bird that only passes through Romania in migration, was found. Legal investigations have started, and we hope that this time the authorities will act and finally someone will take responsibility for the poisoning that has troubled our country for so long and that this excessive raptor killing will be stopped.
Though the majority of birds in Romania are of sedentary species, staying in the same habitat all year long and moving only short distances when the weather changes, there are many bird species which can be seen only in a particular period of time. There are species which grow their chicks here, but in autumn move towards warmer climate, then to return in spring. At the same time there are birds which breed in the north, and can be seen in our region only during migration, in spring and autumn. Some bird species can be observed only in winter time, as these try to survive the cold months on our land, and to turn back to the north to breed. Yet whatever the behavior of the birds, our responsibility to them is the same; their long term interests must be put above our short term gain and we must put our efforts into conserving them for the future generations, both of their species and of our own. Whether they are permanent residents of Romania or just passing through on their annual migration makes no difference to the way we should approach them.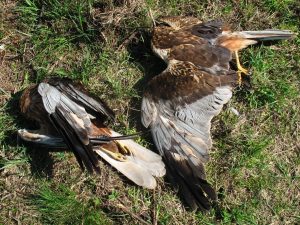 Conservation of birds is a large and manifold task, posing many threats for both birds and conservationists. One of these is poisoning. The most famous example of this is that of the Peregrine Falcon, a raptor with a global range and good adaptation skills which, over the last fifty years, has become an endangered species in many European countries due to excessive use of different pesticides, most commonly the infamous DDT. Species conservation measures and the banning of DDT, which is also dangerous to humans, led to the stabilization of Peregrine Falcon populations, and today the number of breeding pairs is increasing everywhere, including our own country. That raptors are so often the victims of poisoning is by no means a coincidence. At the top of the food chain, they are critically exposed to poison and pesticides that are present in their prey, meaning that even if not the target, raptors can often ingest lethal amounts of poison second hand.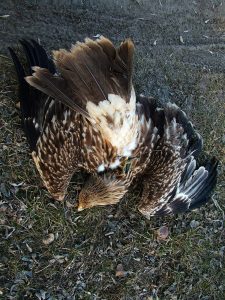 But accidents are not the end of it. Unfortunately, willful, deliberate poisoning is all too common, with birds of prey and carnivorous mammals in particular being targeted. Most often this is carried out by game keepers and hunt managers, targeting anything that may be a threat to their industries. The most common victims are free-ranging dogs and foxes, though, for small game management especially, raptors are often the target of 'pest control'. Under the Romanian and EU law, this is illegal. Yet in many countries- with our neighbour Hungary the most extreme example- the number of lethally poisoned birds has been increased rapidly in recent years. The Central-European population of the Eastern Imperial Eagle, a species for which conservationists have been struggling for decades, has suffered significant losses, prompting the creation of a new LIFE project specifically to address the issue But this phenomenon is not limited to a single country. As was made abundantly clear a few weeks ago, when
Milvus Group attended
an
international conference
on the subject, the situation we see here in Romania mirrors that which others are seeing all across Europe.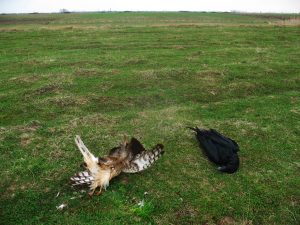 In Europe, most bird poisonings are caused by carbofuran. This is an extremely toxic pesticide, for which the lethal dose is LD50 = 11 mg/kg (LD50 is the index of the dose required to kill half of the experimental animals in 24 hours). There is a
typical example from Scotland
, when the authorities conducting an investigation into bird poisoning found an amount of 10 kg of carbofuran at a gamekeeper's house. This amount is enough to kill all the raptors in Scotland, six times over! Unfortunately the poison doesn`t only kill the animals eating directly from the bait, but also birds which then eat the carcasses of poisoned animals. The use of substances containing carbofuran has been forbidden in every European Union member state since 2008, a rule which of course applies for Romania as well. Still, that is only four years and it is highly possible that many people have significant quantities of leftovers stored. Although we have little information about the intensity of this problem in Romania, a case which has been going on for years in Bihor County warns us that this could be a real threat. For several years members of the Milvus Group's staff and volunteers have been collecting data from the 34
th
Hunting Ground in Salonta, which are certainly related to successive poisonings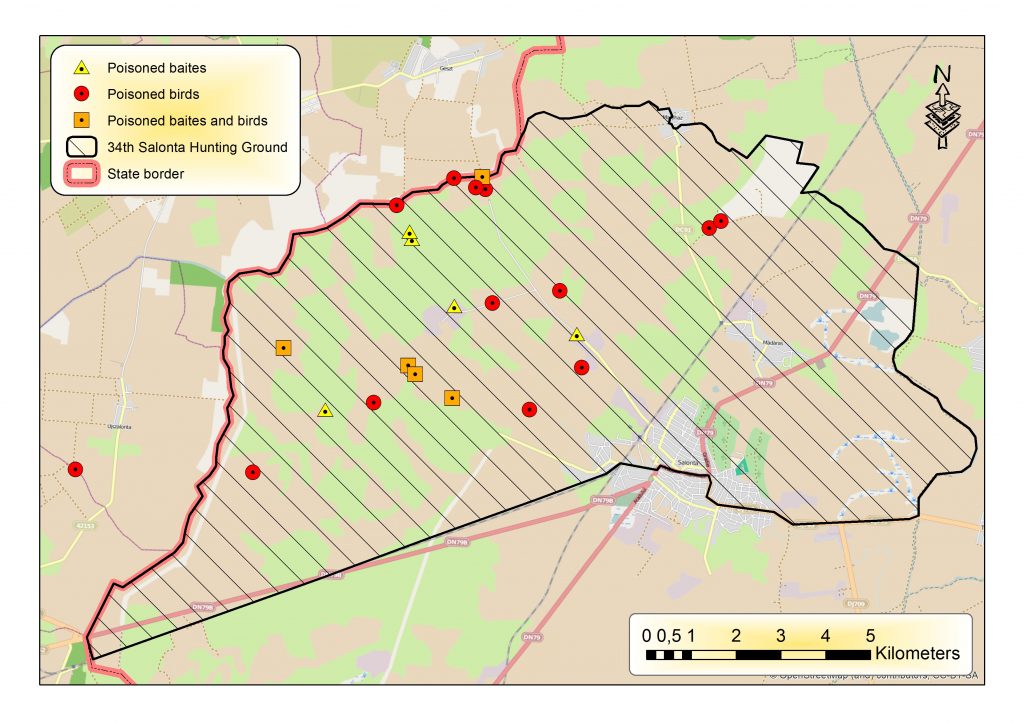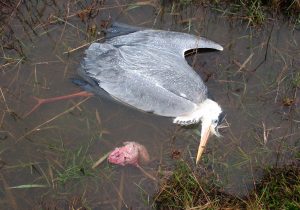 It was in 2007, when finding of multiple Common Buzzard carcasses under a poplar near a deer feeder, that we realized for the first time we were dealing with poisonings. Since then poisoned baits and raptors have been found in several instances. As it turned out, the poison is injected in animal tissues (ex. pork lungs) or chicken eggs. On one occasion we decided to collect the carcasses and sent them to the laboratory of the animal health directory from Mureș County for toxicological analysis. Our suspicion was proven, in the dead bodies of the birds carbofuran was traced.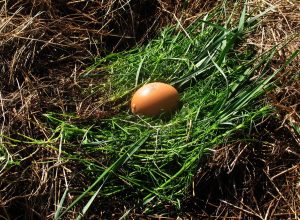 So far we have found 37 dead birds nearby of Salonta which definitely died due to poisoning. Because this specific poison has its effects immediately, it is typical to find several carcasses very close to each other, as some of these birds scavenge, and in these cases they eat from each other's corpses. In the past years two Eastern Imperial Eagles were poisoned to death near Salonta, which demonstrates that endangered and protected birds could easily become victims as well. Recently 16 dead birds were found in total on the fields near Salonta by members of Milvus Group, Hungarian border patrol policeman and local citizens. Besides 4 Common Buzzards, 11 Marsh Harriers and one Grey Heron we found a Pallid Harrier, a rare species for Romania which could have successfully bred in its northern homeland had it had not died in our country.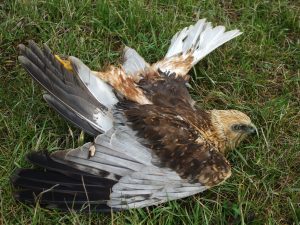 One of the Marsh Harriers
was still alive
when found, and with the help of a willing veterinarian from Salonta it received emergency treatment but unfortunately the poison defeated its body after all and it couldn't make it to the Milvus Group's Rehabilitation Centre from Tîrgu-Mureș… We reported every single case to the authorities, but up to now nothing worthwhile has happened to stop the problem. We have sent several denunciations, notifications to and appealed for help from the relevant authorities (National Environmental Guard of Bihor County, Environmental Protection Agency of Bihor County, Local Police of Salonta, the Police Section of Bihor
County in charge of hazardous materials, Ministry of Environment) and appealed for their help, but nothing really happened to resolve these cases of poisoning. We believe that Milvus Group, as an NGO has done everything possible – and even more – to solve this problem, but we are not entitled to identify the responsible for the poisonings. Still we hope that after the latest cases being reported by Milvus Group and with
the press being involved
, authorities will solve these problems once and for all and they will identify and charge the perpetrators. We keep an eye on the events and we will announce the public about further developments. If anyone had to deal with similar cases, please don't hesitate to get in touch with us!